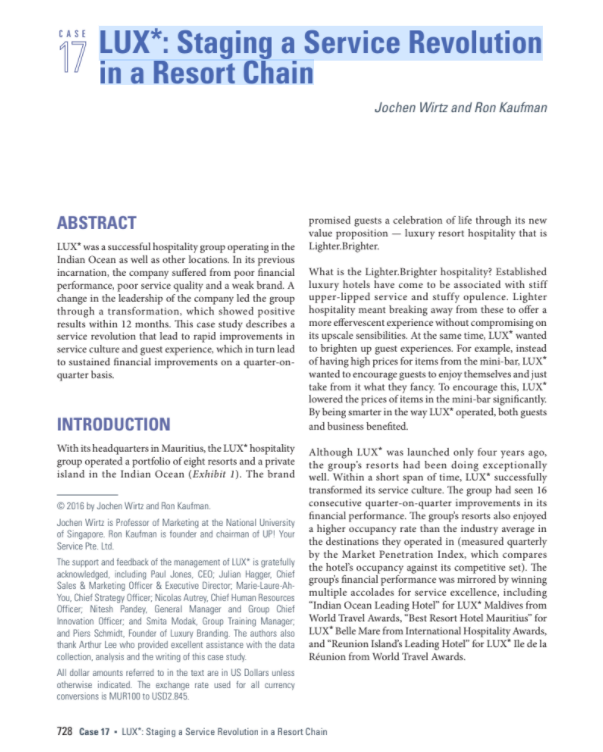 LUX*: Staging a Service Revolution in a Resort Chain
LUX* was a successful hospitality group operating in the
Indian Ocean as well as other locations. In its previous
incarnation, the company suffered from poor financial
performance, poor service quality and a weak brand. A
change in the leadership of the company led the group
through a transformation, which showed positive
results within 12 months. This case study describes a
service revolution that lead to rapid improvements in
service culture and guest experience, which in turn lead
to sustained financial improvements on a quarter-on-
quarter basis.
Authors: Jochen Wirtz and Ron Kaufman
Year of Publication: 2016
View Now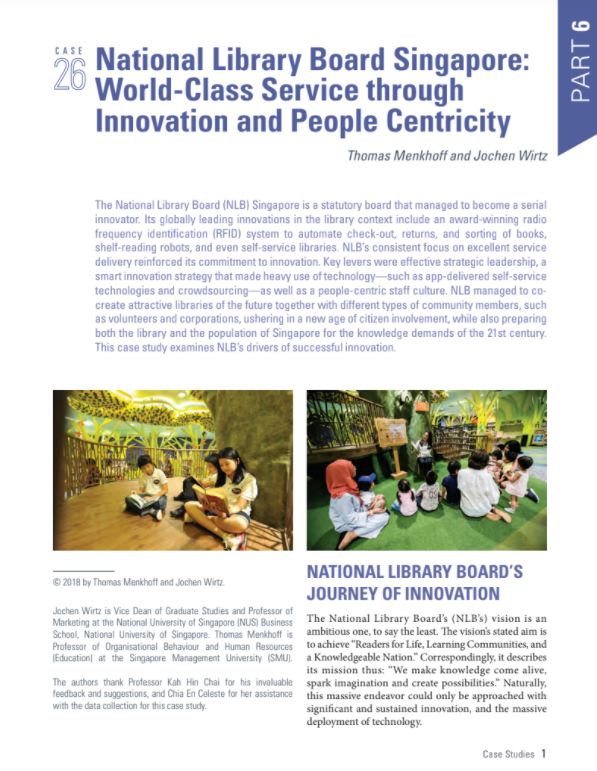 National Library Board Singapore: World-Class Service through Innovation and People Centricity
The National Library Board (NLB) Singapore is a statutory board that managed to become a serial
innovator. Its globally leading innovations in the library context include an award-winning radio
frequency identification (RFID) system to automate check-out, returns, and sorting of books,
shelf-reading robots, and even self-service libraries. NLB's consistent focus on excellent service
delivery reinforced its commitment to innovation. Key levers were effective strategic leadership, a
smart innovation strategy that made heavy use of technology—such as app-delivered self-service
technologies and crowdsourcing—as well as a people-centric staff culture.
Authors: Thomas Menkhoff and Jochen Wirtz
Year of Publication: 2016
View Now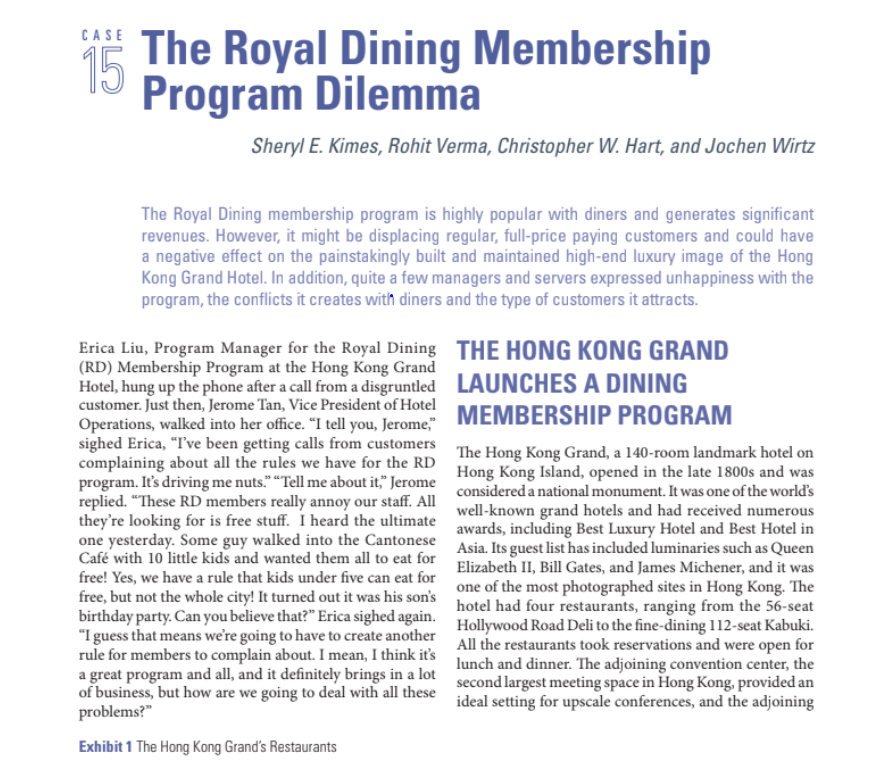 The Royal Dining Membership Program Dilemma
The Royal Dining membership program is highly popular with diners and generates significant
revenues. However, it might be displacing regular, full-price paying customers and could have
a negative effect on the painstakingly built and maintained high-end luxury image of the Hong
Kong Grand Hotel. In addition, quite a few managers and servers expressed unhappiness with the
program, the conflicts it creates with diners and the type of customers it attracts.
Authors: Sheryl E. Kimes, Rohit Verma, Christopher W. Hart, and Jochen Wirtz
Year of Publication: 2016
View Now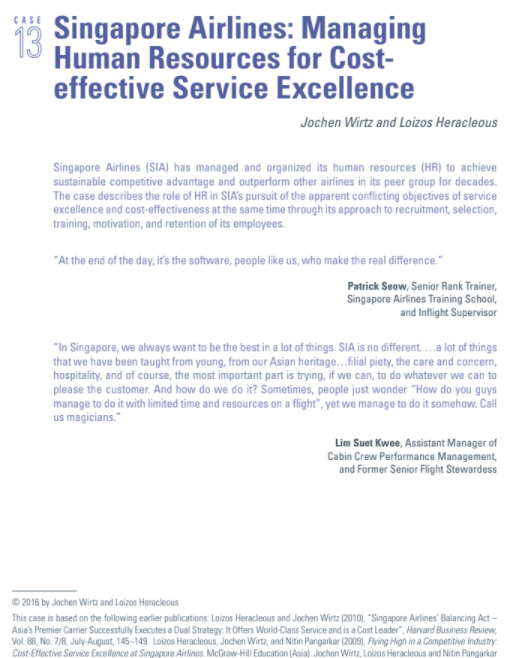 Singapore Airlines: Managing Human Resources for Cost- effective Service Excellence
Singapore Airlines (SIA) has managed and organized its human resources (HR) to achieve
sustainable competitive advantage and outperform other airlines in its peer group for decades.
The case describes the role of HR in SIA's pursuit of the apparent conflicting objectives of service
excellence and cost-effectiveness at the same time through its approach to recruitment, selection,
training, motivation, and retention of its employees.
Authors: Jochen Wirtz and Loizos Heracleous
Year of Publication: 2016
View Now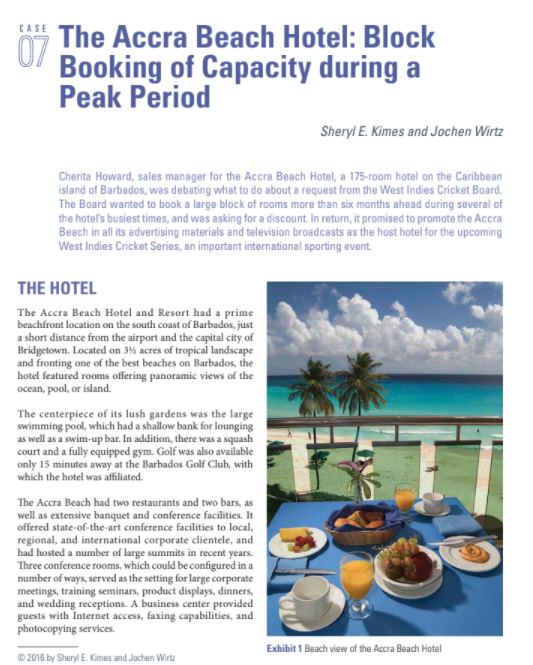 The Accra Beach Hotel: Block Booking of Capacity during a Peak Period
Cherita Howard, sales manager for the Accra Beach Hotel, a 175-room hotel on the Caribbean
island of Barbados, was debating what to do about a request from the West Indies Cricket Board.
The Board wanted to book a large block of rooms more than six months ahead during several of
the hotel's busiest times, and was asking for a discount. In return, it promised to promote the Accra
Beach in all its advertising materials and television broadcasts as the host hotel for the upcoming
West Indies Cricket Series, an important international sporting event.
Authors: Sheryl E. Kimes and Jochen Wirtz
Year of Publication: 2016
View Now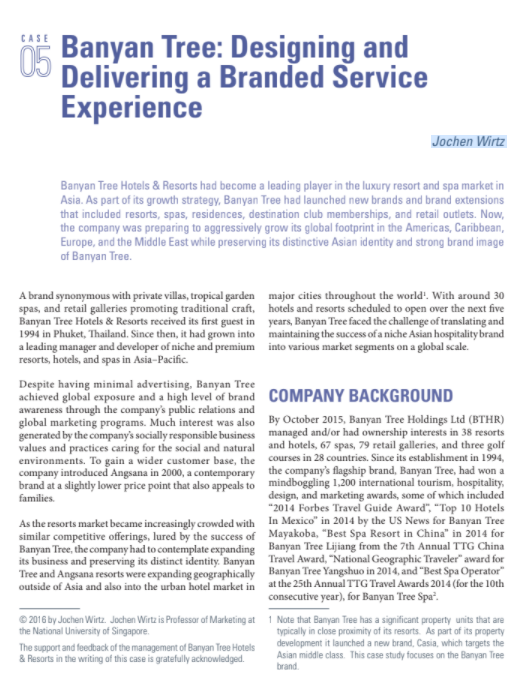 The Accra Beach Hotel: Block Booking of Capacity during a Peak Period
Banyan Tree Hotels & Resorts had become a leading player in the luxury resort and spa market in
Asia. As part of its growth strategy, Banyan Tree had launched new brands and brand extensions
that included resorts, spas, residences, destination club memberships, and retail outlets. Now,
the company was preparing to aggressively grow its global footprint in the Americas, Caribbean,
Europe, and the Middle East while preserving its distinctive Asian identity and strong brand image
of Banyan Tree.
Authors: Jochen Wirtz
Year of Publication: 2016
View Now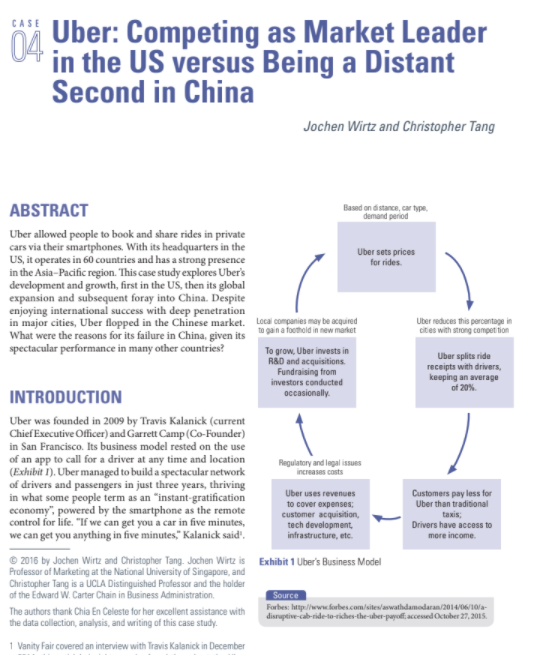 Uber: Competing as Market Leader in the US versus Being a Distant Second in China
Uber allowed people to book and share rides in private
cars via their smartphones. With its headquarters in the
US, it operates in 60 countries and has a strong presence
in the Asia–Pacific region. This case study explores Uber's
development and growth, first in the US, then its global
expansion and subsequent foray into China. Despite
enjoying international success with deep penetration
in major cities, Uber flopped in the Chinese market.
What were the reasons for its failure in China, given its
spectacular performance in many other countries?
Authors: Jochen Wirtz and Christopher Tang
Year of Publication: 2016
View Now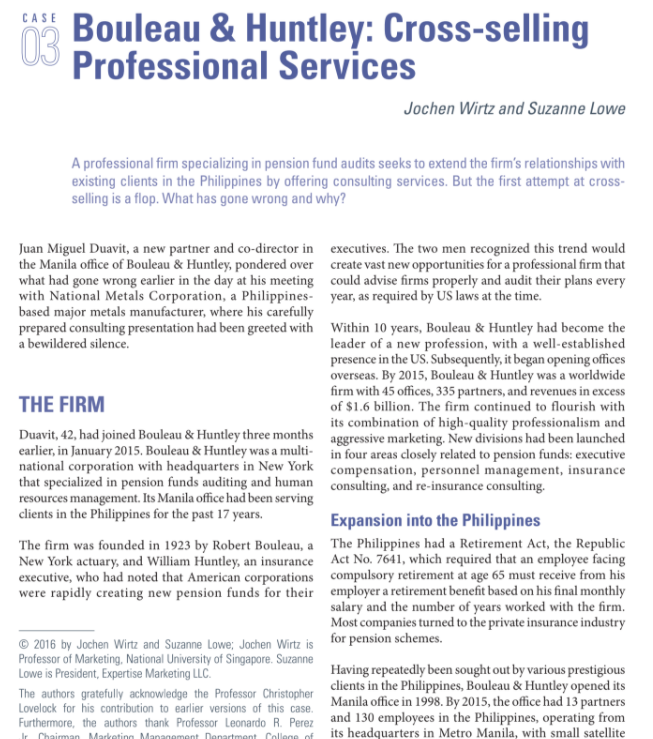 Bouleau & Huntley: Cross-selling Professional Services
A professional firm specializing in pension fund audits seeks to extend the firm's relationships with
existing clients in the Philippines by offering consulting services. But the first attempt at cross-
selling is a flop. What has gone wrong and why?
Authors: Jochen Wirtz and Suzanne Lowe
Year of Publication: 2016
For a full listing of Jochen's cases and teaching materials see his Project Teaching Materials on ResearchGate